"I think the setting for this tri is gorgeous, and it is fun and nice to have a different type of experience with the small race venue." – R. Stevens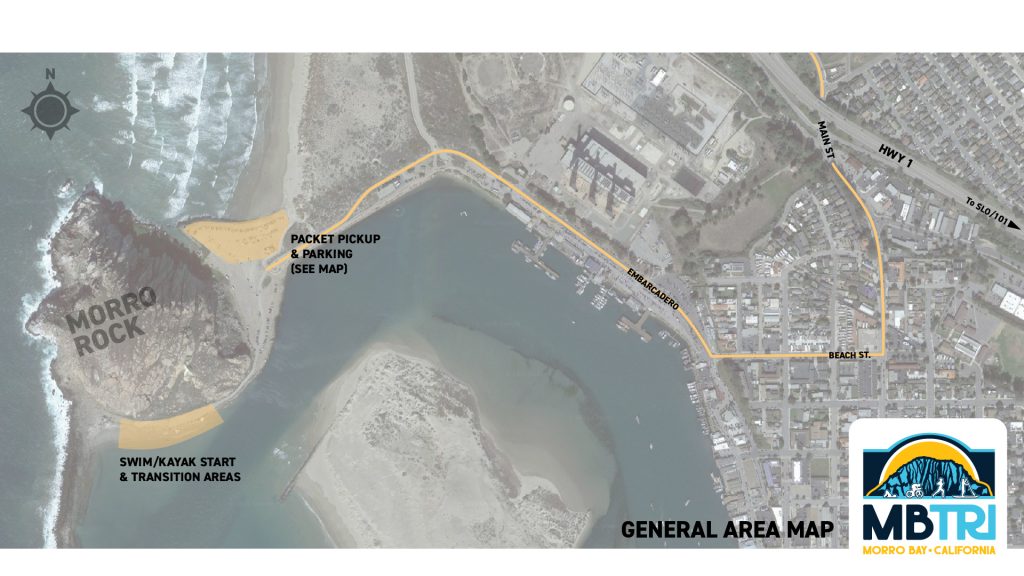 VENUE ADDRESS:
Morro Rock Parking Area
Embarcadero Road
Morro Bay, California
93442
---
PARKING:
There will be plenty of first come first serve parking available in the large lot beneath Morro Rock. Please be advised that we will be closing Embarcadero Road at Colman Park Sunday from 8am-12pm. No vehicles will be allowed in or out.
KAYAK/SUP DROP OFF – Click here for location
-If you are doing the paddle option it is HIGHLY recommended that you stage your paddle craft Saturday after check in. If you wait until race day you will have to walk through the entire transition area with your vessel. We will have a large staging area and overnight security. If you rented a kayak through us it will be staged for you.
– 11/5 4:00 – 7:00pm
10min max
---
PACKET PICKUP + REGISTRATION:
SATURDAY 11/5 : 4:00pm – 7:00pm
SUNDAY 11/6 : 6:00pm – 7:30pm
---
PRE-RACE BRIEFING:
SATURDAY 11/5 : 5:00pm – 5:30pm (by Packet pickup/Registration)
---
For hotels and restaurants please CLICK HERE >

TRANSITION AREA: